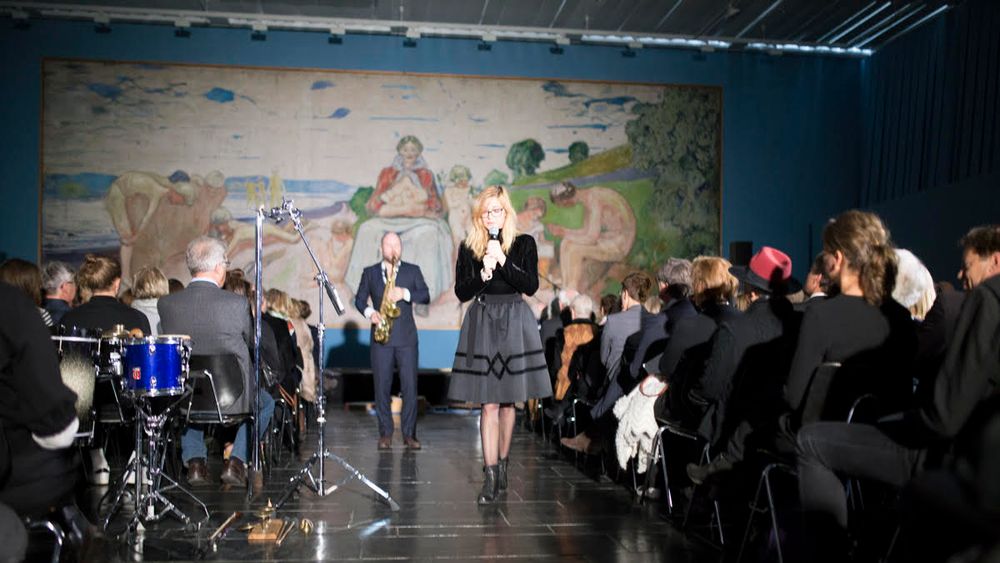 Duo with Rolf-Erik Nystrøm on Saxophone and Juliana Venter vocalist
Online literary and art platform. 2017/08/10 by Willem De Vries Cape Town.
"The consumer mentality creates insensitivity to people's expectations of what
originality is. Therefore, some artists equate dissent with dissonance in their
soundscape in an attempt to reveal something that is real in human existence.
You need to know your field very well to make this happen."

About:
Venter is known for her sonic adventures. In her search for interesting outposts
and meaningful extremes, she brings her unlikely singing talent along with a to the
point approach. A relatively recent example of this was in 2015, a performance at
the Detroit Vintage Garage in Salt River, South Africa, where she and the Sh ...
Art-string ensemble, along with makhoyane and umrhubhe bow player Cara
Stacey and an orchestra consisting of motorcycles, shared the floor.
Unconventional orchestration is nothing new for this singer and composer. She
breaks down boundaries between art, jazz, improvisation, opera, cabaret and
electronic music.
Juliana and the avant-garde (read: art that challenges both artist and audience,
not the label that represents a pretentious statement) are as created for each
other. In relation to the South African mainstream in the 90's, she stood for a kind
of musical counterweight as a member of the group Mud Ensemble (1993-1999),
and poems by poets such as Wopko Jensma and Johan van Wyk were set to
music for this purpose.
Nystrøm shows that he is an extraordinary ambassador for the saxophone. (A
review of his CV says: He has given concerts in more than 50 countries on four
continents, and he has premiered more than 100 works for saxophone. As a
soloist several times with the Oslo Philharmonic and with several other well-known
international orchestras and ensembles such as the Saint Petersburg orchestra.
He also performs his own compositions for orchestra, dance and film, and plays
with internationally renowned folk musicians from countries such as Senegal,
Tajikistan, Egypt, Brazil, Ivory Coast, China, Norway and Sri Lanka, which he
regularly tours).
Venter and Nystrøm have shared their music with the public in museums such as
Edvard Munch museum clubs and theaters in Europe, China, the USA and Africa.
They have worked with poets such as Øyvind Berg and Lesego Rampolokeng and
choreographers such as Jo Strømgren and Stephanie Tiersch . There is a varied
range of expressions, even in their own compositions: In addition to motorcycles,
water, theatre, R. Strauss, Schönberg, jazz, early baroque, and rock in various
forms.
They have presented virtuoso and intense work that inspires and gives the
audience a fascinating view of how music can be interpreted and understood.
Venter, with her dramatic voice, and Nystrøm with his astonishing saxophone
playing, with their abilities for unconventional use of styles and techniques,
harmonies, whimsical with discord, flow and echo, they turn their instruments into
something "Human".
This also gives new meaning to the voice and saxophone.